Give the most
important gift of all:
Love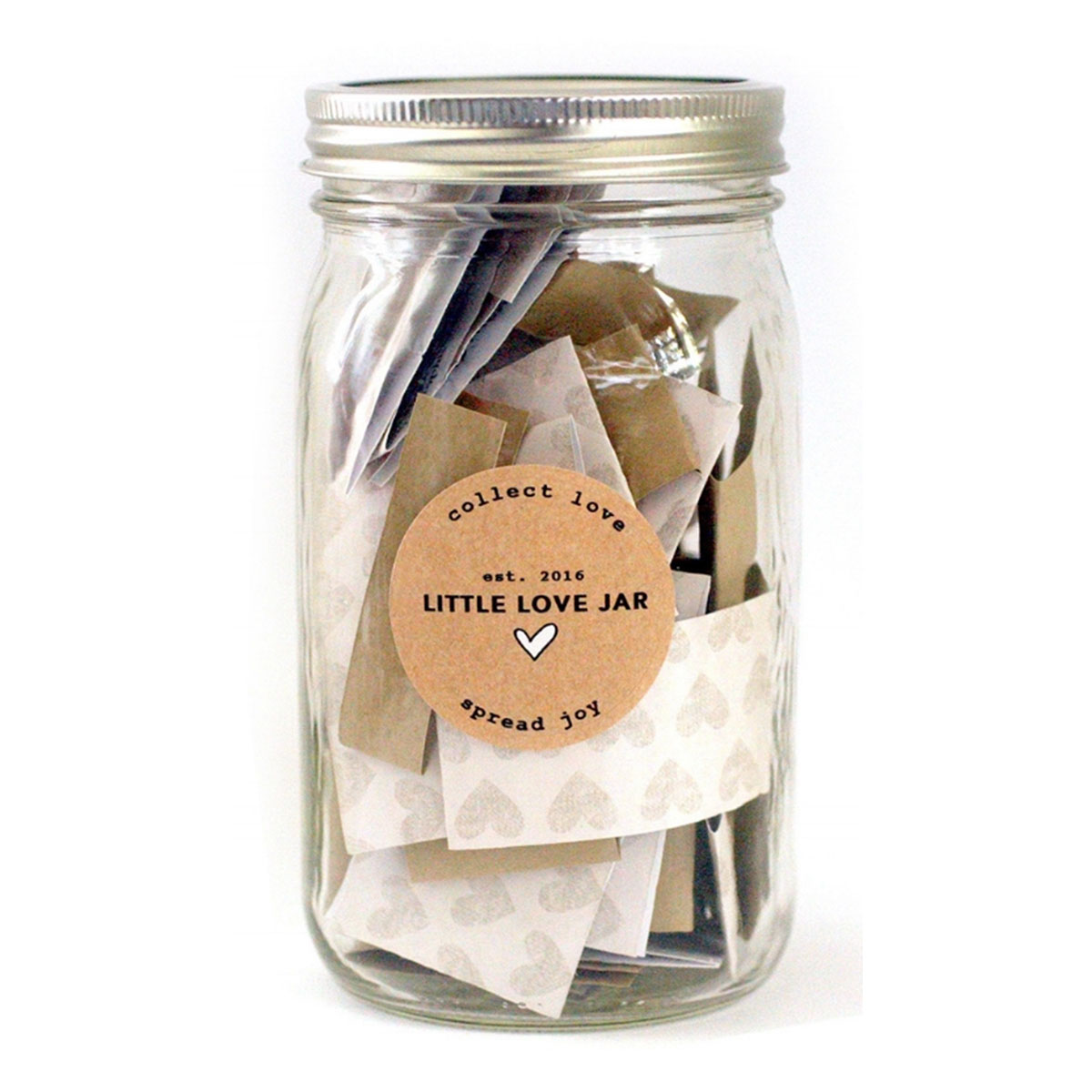 A jar stuffed with love, praise, friendship, and memories, gathered from the people who matter most. The recipient will be celebrated like never before with this personalized gift filled to the brim with joy, inspiration, humor and LOVE. Each Little Love Jar is filled with up to 175 messages, collected from friends and family worldwide.
Start a Jar in 30 seconds:

With a few clicks of a button, you can invite
friends to submit personalized memories, wishes
or inspiration.
We wrap it all up in style and send it for you.
How long does it take to complete a Love Jar?
The Little Love Jar process – collecting messages, fulfilling the jar, and shipping time – takes 15 days, so please order your love jar at least 15 days before the day you want it to arrive at your recipient's doorstep!
Do I need email addresses and/or access to the internet?
Our message gathering system does rely on email addresses and internet connection, however if this presents an issue for you we will try our best to accommodate your needs!
What happens after I purchase a jar?
Congrats! You just took the first step towards giving someone you love the gift of a lifetime! So now that you are officially a gift giving guru, what's next? You'll receive an email with a custom link, template, and instructions on the next steps. All you have to do is forward this template to as many of your recipient's friends, family, and loved ones as you can, submit your own personal messages, and let us to handle the rest! Throughout the collection process you'll receive two reminders, along with a spreadsheet of those who've participated and their messages.
What if I don't have access to the recipient's email contacts?
Don't fear! First, try reaching out to someone who may have access to your recipient's contacts, like an assistant, partner, or close family member, and remind them to keep it super secret! If that is not an option, you can also forward the template via facebook, by simply sending your custom link to the people on your recipients friend list using facebook messenger
How many messages can be collected?
The Original Little Love Jar includes up to 175 messages! If you think you may require room for even more love (for instance, if you plan on having more than 80 people contributing to your jar), contact us directly and we will work with you to accommodate your needs.
Who will see my messages?
Only the recipient will see your messages! Vulnerable, personal, meaningful messages are what make a Love Jar super special. We are dedicated to protecting the privacy of everyone involved in the Love Jar process in order to ensure that every contributor feels comfortable sharing.